Best Father's Day Book Ever!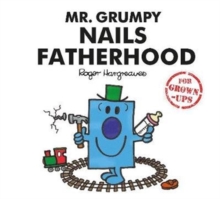 Mr Grumpy Nails Fatherhood 
Here's a little taster for you. Mr Grumpy called Mr Clever.
'I'd love to join you down the pub,' he said, 'but I've got to put the fear of God into my daughter's boyfriend this weekend.'
'How are you going to do that? asked Mr Grumpy.
'Take him to one side and ask him how he plans to provide for her. Then challenge him to an arm wrestle.'
Well that seems  . . . . .  How old is he?'
'Eight.'
So Mr Grumpy called Mr Cool. Mr Cool didn't have any children, he just had freedom and a disposable income.
On sale here at £4.99