Man Booker Shortlist 2018

Daisy Johnson becomes the youngest author shortlisted for the prize
The 27-year-old British author's debut Everything Under is up for the £50,000 award, while Michael Ondaatje and the first nominated graphic novel are knocked out!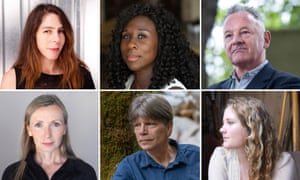 Johnson was chosen ahead of bestselling longlisted novels from former winner Michael Ondaatje and the widely acclaimed Irish novelist Sally Rooney. Johnson's novel Everything Under is about a lexicographer searching for her mother. Judge Val McDermid called it a "modern variation on Sophocles' Oedipus", in which "the natural world is evoked with sinister sensitivity".
Pictured from top left Rachel Kushner, Esi Edigyan, Robin Robertson, Daisy Johnson, Richard Powers and Anna Burns.
Go to Book News page for the full shortlist
Words are important to Gretel, always have been. As a child, she lived on a canal boat with her mother, and together they invented a language that was just their own. She hasn't seen her mother since the age of sixteen, though – almost a lifetime ago – and those memories have faded.
Now Gretel works as a lexicographer, updating dictionary entries, which suits her solitary nature. A phone call from the hospital interrupts Gretel's isolation and throws up questions from long ago. She begins to remember the private vocabulary of her childhood.
'Daisy Johnson is a new goddamn swaggering monster of fiction.' Lauren Groff