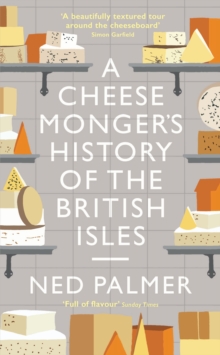 Come and join us with Kieran and Laura on Sunday 17th November from 4pm, and meet Cheesemonger Ned Palmer at Chinley Cheese shop (the Post Office) for some cheese tasting with beer or wine tasting too! And hear about his new book all about cheese!
What a lovely way to spend a Sunday afternoon, more details to follow. Ned's book on sale now at £14.99
Tickets £7.50 available from Reading Matters and Chinley Cheese
In his book cheesemonger Ned Palmer takes us on a delicious journey across Britain and Ireland and through time to uncover the histories of beloved old favourites like Cheddar and Wensleydale and fresh innovations like the Irish Cashel Blue or the rambunctious Renegade Monk. Along the way we learn the craft and culture of cheesemaking from the eccentric and engaging characters who have revived and reinvented farmhouse and artisan traditions. And we get to know the major cheese styles – the blues, washed rinds, semi-softs and, unique to the British Isles, the territorials – and discover how best to enjoy them, on a cheeseboard with a glass of Riesling, or as a Welsh rarebit alongside a pint of Pale Ale.