Book of the Week
Mudlarking by Lara Maiklem
Lara Maiklem has scoured the banks of the Thames for over fifteen years, in pursuit of the objects that the river unearths: from Neolithic flints to Roman hair pins, medieval buckles to Tudor buttons, Georgian clay pipes to Victorian toys. These objects tell her about London and its lost ways of life. Moving from the river's tidal origins in the west of the city to the point where it meets the sea in the east, Mudlarking is a search for urban solitude and history on the River Thames, which Lara calls the longest archaeological site in England. As she has discovered, it is often the tiniest objects that tell the greatest stories. On sale now £16.99
'DRIVEN BY CURIOSITY, FREIGHTED WITH MYSTERY AND TEMPERED BY CHANCE, WONDERS GLEAM FROM EVERY PAGE' THE SUNDAY TIMES
  This is young Alex White who is on a quest to get more people out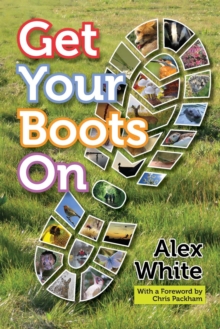 enjoying nature. Illustrated throughout by Alex's stunning photographs, this book will appeal to young and old alike. It suggests when and where to get out there; what to go looking for; how to do it; what to take… and a host of other tips.
Good, practical advice for getting closer to nature. There is also encouragement from those who have lived it with expert contributors telling their stories. Ideal for anyone who wants to get closer to nature. Perfect for those who would like to get more involved or even build a career out of their passion for wildlife. Get Your Boots On on sale here SP £13.99. Thank you Alex – cracking book!
Monastic Granges of Derbyshire by Mary Wiltshire & Sue Woore
A comprehensive introduction is followed by annotated maps, references and historical notes for each grange are arranged in alphabetical order. Summary tables highlight patterns and trends.
An appendix, researched and written by Brian Rich, considers routes taken by religious houses to reach their granges from outside Derbyshire.
The book aims to bring to life the activity and influence which monastic communities had during some four centuries in Derbyshire and how this can be interpreted today in the landscape. It is hoped it will stimulate enthusiasm for renewed investigation.
Mary Wiltshire and Sue Woore have always had a keen interest in interpreting the landscape. They have undertaken field work at the site of every grange catalogued and have reinforced this by researching documentary sources.
On sale now SP £14.99
Averse (or two) to Opera by Macclesfield author, Frank Walker
'How wonderful Opera would be if there were no singers' Gioachino Rossini.
Not the kind of comment one would expect from Rossini who composed 39 of them during his life! However, this book is fun for both lovers and haters. With an eye for biographical detail, as keen as Florence Foster Jenkins' ear for perfect pitch, Frank presents a collection of comic verse exploring the absurdities of opera. A little taster for you . . . .
'Composers treat women with little respect.
In opera it's practically certain 
the poor prima dona will end up a goner;
It's few that survive till the curtain'
On sale now £8.99
Women's Prize for Fiction 2019 The Longlist
The Silence of the Girls by Pat Barker
Remembered by Yvonne Battle-Felton
My Sister, the Serial Killer Oyinkan Braithwaite
The Pisces Melissa Broder
Milkman Anna Burns
Freshwater Akwaeke Emezi
Ordinary People Diana Evans
Swan Song Kelleigh Greenberg-Jephcott
An American Marriage Tayari Jones
Number One Chinese Restaurant Lillian Li
Bottled Goods Sophie van Llewyn
Lost Children Archive Valeria Luiselli
Praise Song for the Butterflies Bernice L. McFadden
Circe Madeline Miller
Ghost Wall Sarah Moss
Normal People by Sally Rooney
Broadcast Brothers 'On the Radio'
by Steve and Paul Jenner
Towards the end of the last century, there was a modern – day Gold Rush; the rush to establish independent commercial radio stations in 'virgin territories' – or 'white space' – throughout the country.
The story of two brothers from a mining town in the former North Nottinghamshire coalfield, whose efforts would define this desperate dash. Without money, status or influence, they took on the power of an indifferent Establishment in pursuit of their dreams and changed the broadcasting map of the country forever. On sale here only £12.99  (RRP £14.99)
Baillie Gifford Prize 2018 for non fiction
The six shortlisted titles are
Hello World: How to be Human in The Age of The Machine, Hannah Fry (Doubleday)
The Spy and the Traitor, Ben Macintyre (Viking)
Amateur: A True Story About What Makes a Man, Thomas Page McBee (Canongate Books)
Imperial Twilight: The Opium War and the End of China's Last Golden Age, Stephen R Platt (Atlantic)
Chernobyl: History of A Tragedy, Serhii Plokhy (Allen Lane)
She Has Her Mother's Laugh:  The Powers, Perversions and Potential of Heredity, Carl Zimmer (Picador)
The winner of the 2018 Baillie Gifford Prize for Non-Fiction will be announced on Wednesday 14 November at an awards dinner at RIBA generously supported by the Blavatnik Family Foundation.
Milkman by Anna Burns, the Man Booker 2018 winner
Chair of Judges Kwame Anthony Appiah comments:
'The language of Anna Burns' Milkman is simply marvellous; beginning with the distinctive and consistently realised voice of the funny, resilient, astute, plain-spoken, first-person protagonist. From the opening page her words pull us into the daily violence of her world — threats of murder, people killed by state hit squads — while responding to the everyday realities of her life as a young woman, negotiating a way between the demands of family, friends and lovers in an unsettled time. The novel delineates brilliantly the power of gossip and social pressure in a tight-knit community, and shows how both rumour and political loyalties can be put in the service of a relentless campaign of individual sexual harassment. Burns draws on the experience of Northern Ireland during the Troubles to portray a world that allows individuals to abuse the power granted by a community to those who resist the state on their behalf. Yet this is never a novel about just one place or time. The local is in service to an exploration of the universal experience of societies in crisis.'
Man Booker Prize 2018 for fiction shortlist
Anna Burns (UK)  Milkman
Esi Edugyan (Canada)  Washington Black
Daisy Johnson (UK)  Everything Under
Rachel Kushner (USA)  The Mars Room
Richard Powers (USA)  The Overstory 
Robin Robertson (UK)  The Long Take
The 2018 winner will be announced on Tuesday 16 October in London's Guildhall, at a dinner that brings together the shortlisted authors and well-known figures from the cultural world. The ceremony will be aired by the BBC, the prize's broadcast partner.
Crime Novel of the Year Award
Congratulations to the winner of the Theakston Old Peculier Crime Novel of the Year Award, Stav Sherez with The Intrusions and Congratulations to John Grisham on being awarded the Outstanding Contribution to Crime Fiction!